About the Course:
Two Year - Advanced Diploma in IT, Networking and Cloud Computing with IBM collaboration
---
We need a national drive to provide Indian students with the cloud training opportunities to develop their fullest latent throughout life, irrespective of their starting points. Through this drive, the Cloud skills, passion and contributions of every individual will move India next phase of development towards an advanced Cloud computing skills requirement.
This Course has been developed with a clearly defined objective will help the students the most to enhance the employability and create industry pathways for students by helping them to start their own enterprise in cloud maintenance or computer hardware maintenance. Alternatively, students can apply for jobs in Industry as system technician, cloud developer, web designer and trainers (future skills).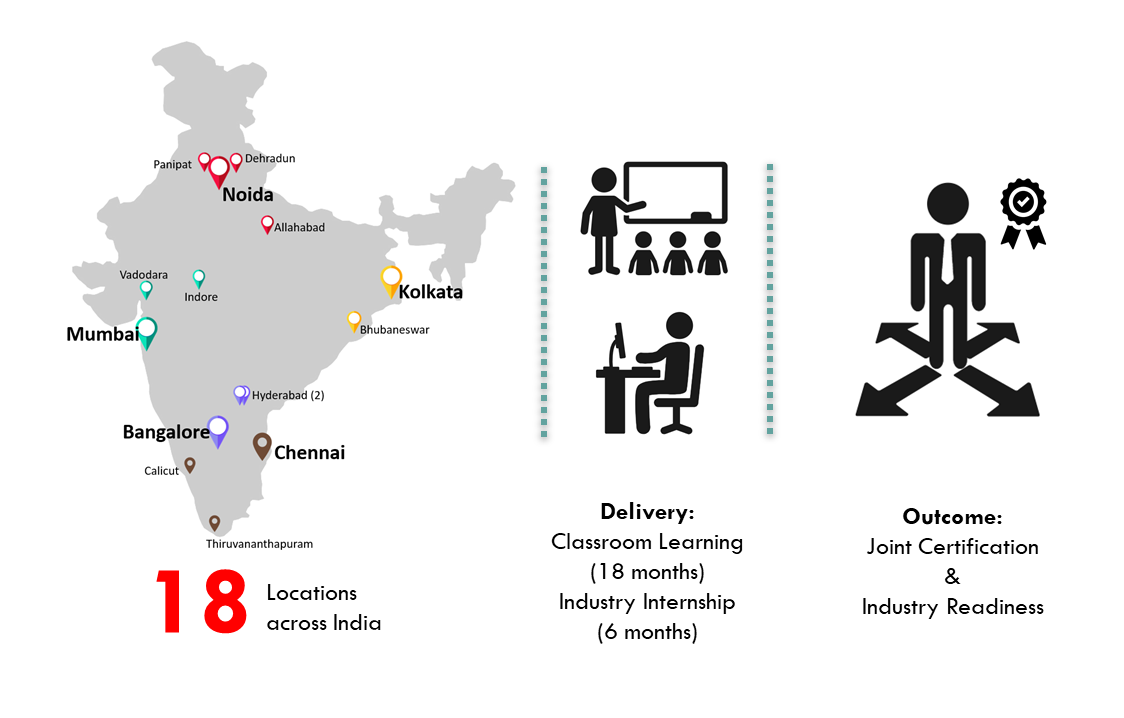 IBM Advanced Diploma on cloud computing : Program Status and Structure
---
The advanced diploma course on IT, Networking and Cloud Computing, which is NSQF Level 6 certified, is jointly offered by Directorate General of Training, MSDE and IBM India. With a humble start of 19 students in 2018, the program has grown to 550 students in 2020 @ 18 NSTIs. Presently, the course delivered at NSTIs is divided in two parts: with 18 months of teaching at the institute and 5 months of Internship opportunity in Industry premises to work apply the skills and practice them on real-world projects. To support the course delivery at the institute, a network of trained faculty from Industry (by IBM) is provided to the institutes ensuring
(1) Quality delivery of course content to students and
(2) Capacity building of the NSTIs by teaching the institute faculty members. The students and teachers are also supported with online courses designed and curated for the program participants by industry experts with opportunities for global certification standards.
With the changes in Indian job market and estimated 1 million job roles to be created in areas of Cloud Computing, it is required to scale the program to a larger section of audience across the country.
Duration of the Course:
The course is for two years duration. In the first year there are five core modules each module is credit based and employable. Each module is of 320 hours and is very much independent. In second year, the trainee will be taking two elective modules out of three electives each of 320 hours and will be doing on the job training in Industry for 800 hours. In addition, the trainees will pick up employability skills for 160 hours.
HIGHLIGHTS of the Course
Eligibility qualification
X/XII Std pass with NTC (NCVT certificate) of any one year or Two-year Trade with minimum 60% marks/First Class. Candidates pursuing CTS, in NSTI / ITI who have appeared or appearing in their final exams can also apply, provided they should have scored a minimum of 60% marks in their CTS trade. In case of not satisfying the minimum 60% marks they will not be allowed to continue the course.


or


XII Std pass with minimum 60% marks/First Class.


or


X std pass with three-year diploma from recognized board and minimum 60% marks/First class in Diploma


or


Any regular degree from recognized university with minimum 60% marks/First class
Stipend
A Stipend of Rs. 3000/- per month for all the students.
Internship
• A Stipend of Rs.15000/-per month will be provided by IBM as paid stipend/internship for the top 70 students based on the merit, for the 2022-2024 batch for face to face Internships in Bangalore.


---
• A Stipend of Rs. 5000/- per month for the remaining students during the On the Job training (OJT) for the remote internship at IBM or with third party / partners.
---
Placement:
IBM and its channel partners will provide the placement support to students post completion of the course, Placement will be based on overall performance and merit during the course.
---
Vertical Mobility:
IBM will also work on vertical mobility for the students passing the Advanced Diploma course to B.Voc or similar courses offered by its partner universities.
---